Business
The Company That Was Made for the Pandemic
How Trane Technologies' Mike Lamach turned an also-ran in air conditioning into a market leader with an environmental and socially conscious bent.
By
The Company That Was Made for the Pandemic
How Trane Technologies' Mike Lamach turned an also-ran in air conditioning into a market leader with an environmental and socially conscious bent.
By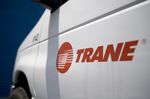 To get Brooke Sutherland's newsletter delivered directly to your inbox, sign up here.
Back in January, when global pandemics were still just the stuff of bad dreams and horror films, I took an informal poll of industrial analysts and investors asking which chief executive officer they thought deserved more attention. They almost unanimously pointed to Michael Lamach of Trane Technologies Plc.
The numbers show why: Since Lamach became CEO in 2010, the company's market value has tripled to more than $30 billion. Trane, a heating and cooling specialist, began trading as a standalone company in early March, just weeks before the coronavirus pandemic turned the world upside down. Its debut was the capstone of a decade-long transformation that began with a laggard climate business acquired by the former Ingersoll-Rand Plc in the throes of the financial crisis and ended with that same business becoming the company's crown jewel. Valued at more than 27 times next year's earnings, investors are now willing to pay more for Trane's future profits than those of most of its top peers and technology giants Facebook Inc. and Google parent Alphabet Inc.
But there's more to it than that. Under Lamach's leadership, Trane has also committed to helping the environment and taking care of its own workforce. When the financial crisis struck, Trane invested money it could barely spare in technological innovations that now position the company to follow through on a pledge to reduce its customers' emissions by one gigaton of carbon dioxide equivalent – essentially the annual emissions of the U.K., France and Italy combined — by 2030. When the pandemic arrived, Trane was one of the few major manufacturing companies in the U.S. to take the financial hit of proactively shutting down production on anything that wasn't related to the health care or pharmaceutical industries until it could invest in protective gear and social distancing for its employees.
It's a busy week for industrial results and for earnings in general, but Lamach's ability to join all of these threads and focus on the bigger picture makes Trane worth a closer look. 
"I think about it as a system of things," Lamach, 57, said in an interview this summer. "You can't pull one lever and not think something doesn't happen elsewhere. You can't pull the productivity lever and think that doesn't affect innovation. Employee and social responsibility aren't different than customer focus."
Trane is due to report its third-quarter earnings on Wednesday. Analysts predict that a summer surge in demand for air conditioners from stuck-at-home consumers and increasing corporate interest in air-quality control likely limited the decline in its sales from the weak economy. Perhaps it's not surprising that a company with expertise in ventilation is faring comparatively well during a pandemic caused by an airborne contagion. But Trane's ability to weather the current downturn has roots in another recession.
Ingersoll-Rand acquired the business for about $10 billion in 2008, roughly three months before the financial crisis boiled over with the collapse of Lehman Brothers. When the deal was struck, Lamach was running Ingersoll-Rand's security-products unit. 1 But it soon became clear Ingersoll-Rand had miscalculated on Trane, leaving it with a bloated debt load and a business that badly trailed competitors on technology. Lamach's job — first as head of Trane's commercial division, then chief operating officer and eventually CEO — was to clean up the mess.

Usually, that might entail drastically slashing costs or just cutting the company's losses and moving on. After all, the prevailing narrative in the industrial world over the past decade has been that a company's money is best spent on dividends or share buybacks, and any dead weight should be swiftly dumped. Research and development spending has been tolerated more than encouraged, and it's expected to pay off in months, not years. But Lamach was no stranger to hard work: He was raised in the Detroit area by a single mother juggling multiple jobs and eastern European immigrant grandparents with no schooling past the sixth grade. Lamach paid his own way through college, despite suffering a stroke just a few months into his freshman year at Michigan State University. Faced with a new challenge at Trane, he decided to take a risk and spend through the crisis on innovations that he thought — but didn't really know — would make the company relevant on the other end of the carnage.
Lamach understood the company wouldn't get anywhere by spending heavily to build products Trane's rivals already had. He also knew the industry had a problem when it came to climate change. Estimates showed that heating, ventilation and air-conditioning (HVAC) systems accounted for 40% or more of a building's energy consumption and that, without a course change, by 2030 they would be responsible for 25% of the world's greenhouse gas emissions. Environmental, social and governance factors barely existed as an investment theme then, but Lamach wagered that finding a workaround would be a way to differentiate the company and boost its market share. "Why wouldn't it be if you were trying to solve that problem?" he said.
So Trane invested hundreds of millions of dollars developing technology with
next-generation refrigerants
that relied on alternative chemicals that contribute less to global warming. It was the first HVAC company to do so, according to Lamach, and had no revenue to show for it until the first products — now labeled EcoWise — hit the market in 2013. It took several more years (until about 2016 by Lamach's estimate) for Wall Street to pay attention to Trane's technology advantage. Only by 2018 was the company clearly outperforming its peers. Trane now pairs the alternative refrigerants with software systems that scrape data from buildings and give recommendations on curbing energy use and improving air quality. Other recent advances include technology released to the European market that
eliminates the need
for separate boilers and chillers, boosting efficiency by as much as 400% compared with traditional systems.
The company's environmental and financial goals have become so intertwined that when Lamach was preparing a strategy update for the board in late 2018, he realized 90% of what he was writing echoed the company's sustainability initiative and decided just to present that instead. That's where Trane's 2030 goals came from. The idea of reducing its customers' emissions by one gigaton may seem like a feel-good marketing pitch, but it's also an outcome that people are more than willing to pay for, as evidenced by the improvement in Trane's profit margins over the years. This combination of financial returns and environmentally friendly products got Lamach named one of Harvard Business Review's top-performing CEOs in 2019. The company's sustainability goals were also a major driver in the decision to divest Ingersoll-Rand's hodgepodge industrial unit earlier this year; the potential to curb emissions through the Trane business was so much greater that it became "hard to manage the internal messaging," Lamach said. 
As it turns out, people like working for a company that's helping the environment and that cares about them. Before joining Ingersoll-Rand, Lamach spent about 20 years at Johnson Controls, much of it bouncing around between different overseas postings away from his family. It turned him off from the model of making foreign subsidiaries subservient to U.S. managers and turned him on to the importance of work-life balance. "It was something that was a seed for me," Lamach said. He wanted to create a culture "where you could stay longer and be more engaged." So Trane now operates with a highly regionalized structure: It makes 95% of the products it sells in a region locally and has de-emphasized expats as leaders. The company's most centralized internal goals are its sustainability initiative: Trane is also aiming to cut its own energy use by 10% this decade, neutralize its carbon footprint and contribute zero waste to landfills. It's likely that many Trane employees will be around to see it hit these goals: Trane has been able to retain at least 95% of its talent — defined as higher-performing workers and those with growth potential — annually over a decade. 
And that brings us back to Lamach's view of a company as an interconnected system. Faced with a new crisis in the pandemic, he's repeating his Great Recession playbook and taking the long-term view once again. That means funneling money toward the development of Trane's next great technological innovation, albeit with a better balance sheet this time around. "We're playing aggressive offense so that we can come out of this stronger and with a bigger lead than when we went in," Lamach said. "It would be criminal if we didn't do that." But it also explains why he shut down the company's factories in March. 

"In a lot of the communities where we worked, we were the largest employer. These are places where there's not a lot of industry. You could potentially damage a community if you're not operating the right way," Lamach said. "I knew we were going to get hammered in first-quarter earnings. I never really thought there was a second choice." Indeed, when Trane reported its first-quarter results in May, its earnings per share missed analysts' estimates by the widest margin in data going back to 2009. Trane shares fell 3.5% in the first down earnings day since 2017. But it never had to shut down a plant or line again. 
That's been a good thing because business has been fairly busy, with the home-improvement craze extending to HVAC upgrades and businesses navigating the tricky task of making people feel comfortable again in shared indoor spaces. Trane's Thermo King refrigerated trailer business is also ramping up production of freezer parts to help transport an eventual coronavirus vaccine. Lamach is worried about the broader economy: "If this many people are unemployed, at what point does that catch up with us?" But so far, Trane hasn't had to do major layoffs because of the pandemic. In fact, salary increases that had been deferred until next year are now being brought forward to October.
Lamach and other executives were meant to ring the bell on the New York Stock Exchange on March 17 to celebrate Trane's relaunch as a pure-play climate company. Like so much else in the world, the ceremony ended up getting canceled because of the pandemic. But the coming-out party wasn't: Trane shares have climbed about 30% since re-emerging as a standalone company, almost double the performance of the S&P 500. 
Some companies will weather the pandemic based on pure luck; baking supplies, Lysol and home-fitness equipment are all bigger sellers now than they've been in a long time, for example. But in this moment when many businesses are facing a reckoning, Trane's story is a reminder that there's no replacement for good leadership.
To contact the editor responsible for this story:
Beth Williams at bewilliams@bloomberg.net