October 20, 2020
Trane China Launches Innovative Solutions to Improve Indoor Air Quality and Building Environmental Safety
Trane China has recently launched a new suite of Air Cleaning System that applies advanced technology to reduce containments including particulates, gases and viruses, in indoor environments. The system comprehensively improve indoor air quality (IAQ) and building environmental safety under the new normal with the COVID-19 epidemic, and meet people's added requirements for a safe, healthy and comfortable indoor environment.
As healthcare, business, education and other industries are in orderly operation under the new normal of the pandemic in China, the government and all walks of life focus on how to improve IAQ, especially in public places. Due to the impact of COVID-19, people's requirements for a safe and comfortable indoor environment have risen to an unprecedented height, which also makes the demand for high quality air conditioning and ventilation system in buildings become a new normal.
"To prevent and control the spread of COVID-19, the State Council, the Architectural Society of China and other industry associations have issued policies, regulations and guidelines for the safe operation of air conditioning and ventilation systems in various public buildings to improve the health of the building environment," said Steve Yan, president of Trane China. "As a global leader in HVAC, Trane has a long history of innovation. To tackle the challenges in the pandemic, we quickly developed and launched a new suite of Air Cleaning solutions with strong anti-virus capabilities that protects and improves IAQ while safeguarding public health and promoting the restoration of social and economic vitality. "
Improve Indoor Air Quality by Advanced Technologies
Trane Air Cleaning System applies four technologies: Photocatalytic Oxidation (PCO),
Ultraviolet Germicidal Irradiation (UVGI), High Voltage Electrostatic Filter and Anion technologies, which can be applied together or independently, to improve IAQ and protect  indoor environment by providing external connection and plug-in options. This innovative solution can not only quickly and easily reduce the risk of transmission of pathogens, but also effectively degrade toxic, harmful gases and odors in the air, and filter out PM2.5 particles to achieve more effective air cleaning results.
Photocatalytic oxidation (PCO), through a process called photo-catalysis, uses the ultraviolet radiation to illuminate the photocatalytic material and combine the water and oxygen in the air for photocatalytic reaction, rapidly producing the high concentration of bactericidal ionic group. With their oxidation and iconicity, these bactericidal ionic groups can rapidly decompose chemically harmful gases and odors, settle suspended particulate matter, kill microbial pollutants such as viruses, bacteria and molds, and convert harmful volatile organic compounds (VOCs) to simpler chemicals, such as carbon dioxide and water.
UVGI has a dual purpose: its primary function is an energy source for the catalytic reactions of the PCO process, while it also provides a germicidal effect on microorganisms by using ultraviolet light in the "C" band (UVC) to damage the DNA or RNA and inactivate a wide range of micro-organisms, including fungi, bacteria and viruses commonly found in buildings.
High Voltage Electrostatic Filter technology intercepts and filters out the large dust particles in the air, and then kills the suspended bacteria and other microorganisms through the powerful electric field force energy released by the high voltage electric charge instantly, making them lose their bioactivity, so as to achieve the purpose of disinfection and sterilization.
Anion technology can make particles with a size as small as 0.01 micron invisible to the naked eye as well as floating dust and odor molecules sink to the ground, and effectively destroy the molecular protein structure of bacteria and viruses so as to produce an antibacterial effect. Anion technology can also effectively reduce allergens and provide cleaner air.
 "Our unique Trane Air Cleaning System combines four technologies: High-voltage Electrostatic Filter, PCO, UVGI and Anion technologies. They can effectively remove pathogens and particles in the air," said Bruce Gu, vice president of Engineering and Technology, Trane Technologies, Asia Pacific, "Our solutions will help reduce the transmission and spread of airborne diseases, such as the influenza, even in areas with high risks, such as medical institutions, providing more effective safety and health protection for indoor air environments in various buildings."
Through testing and certification by authoritative organizations, the Trane Air Cleaning System is shown to effectively ensure a healthy and safe indoor environment. The POC product can kill up to 99.9% of staphylococcus albus, and remove up to 99% of A virus like H1N1. The high voltage electrostatic filter product can achieve a purification efficiency of up to 99.3% for microorganisms, and an effective filtration efficiency of over 99.9% for PM2.5 particles. Meanwhile, there is no significant increase in ozone during the process. Furthermore, the solution is characterized by low air resistance and almost no additional energy consumption on the air-conditioning system, which better support the sustainable development and operation of building owners and operators.
Safeguard Public Health and Safety with Cross-Industry Applications
As a trusted partner of developers and building operators around the world, Trane has received more than 3,000 inquiries from 11 countries in the Asia-Pacific region, and has signed more than 230 orders with customers from a variety of industries. The solution has been successfully applied in various market segments and received positive feedback from customers in different industries.
What's more, Trane Technologies recently established a "The Center for Healthy & Efficient Spaces", taking advantage of its internal and external expertise, together with innovative technologies from external experts and partners, to help customers cope with indoor environmental challenges during and after the COVID-19 outbreak, and jointly create a new normal of more sustainable development.
In order to provide patients with a safer and more comfortable medical environment, and to prevent the secondary contamination of medical equipment and the invasion of other germs and viruses, the air-conditioning system in the medical industry should not only control the appropriate temperature, but also ensure absolute compliance with air quality standards. A well-known hospital in Nanjing and an elderly care facility in Suzhou of Jiangsu Province have recently applied Trane's newly launched solution to meet the high standards and strict requirements for IAQ and air-conditioning system.
People at educational facilities, which are six times as crowded as commercial and retail venues, are accordingly more exposed to the risk of contracting airborne diseases.  In order to protect the health of students with efficiency and safety, a stable, reliable and efficient sterilizing air cleaning system is particularly important for schools. A middle school in Ningbo of Zhejiang Province is stepping up the construction of its comprehensive gymnasium, which uses Trane's central air-conditioning system together with the Air Cleaning solutions, to create a healthier, safer and more comfortable environment for students, and provide parents with greater peace of mind for their children's safety at school.
In addition, in early October, Trane Technologies, in partnership with Synexis, launched a more innovative technology in indoor environmental quality, which is incorporated into Trane's comprehensive portfolio of products and services for K-12 schools, aiming to further improve IAQ in school buildings. The technology, which can be integrated into the HVAC duct system or applied as a stand-alone to individual rooms or spaces, uses dry hydrogen peroxide (DHP) to reduce pathogens in the air and on surfaces.
The health and safety of indoor air is also particularly important for exhibition halls. An exhibition center in Nanjing also applied the Trane Air Cleaning System for the first time during the construction of the third phase of its venue, to create a safer, healthier and more comfortable environment for visitors and exhibitors.
Trane is driving the industry to ensure a safe and comfortable indoor environment under challenging circumstances via proper air handling, filtration, ventilation and purification. Moreover, the Trane Air Cleaning System is versatile, catering to multiple applications, such as fittings to a new building, field retrofit into existing Trane (and other brands of) air handlers and duct-mounted systems.
Additional Information :
There is evidence from The American Society of Heating, Refrigerating, and Air-Conditioning Engineers ( ASHRAE ) and other sources that HVAC technologies can mitigate the risk of exposure to infectious aerosols in built environments; however, the transmission and mitigation of COVID-19 in buildings is yet to be tested and confirmed.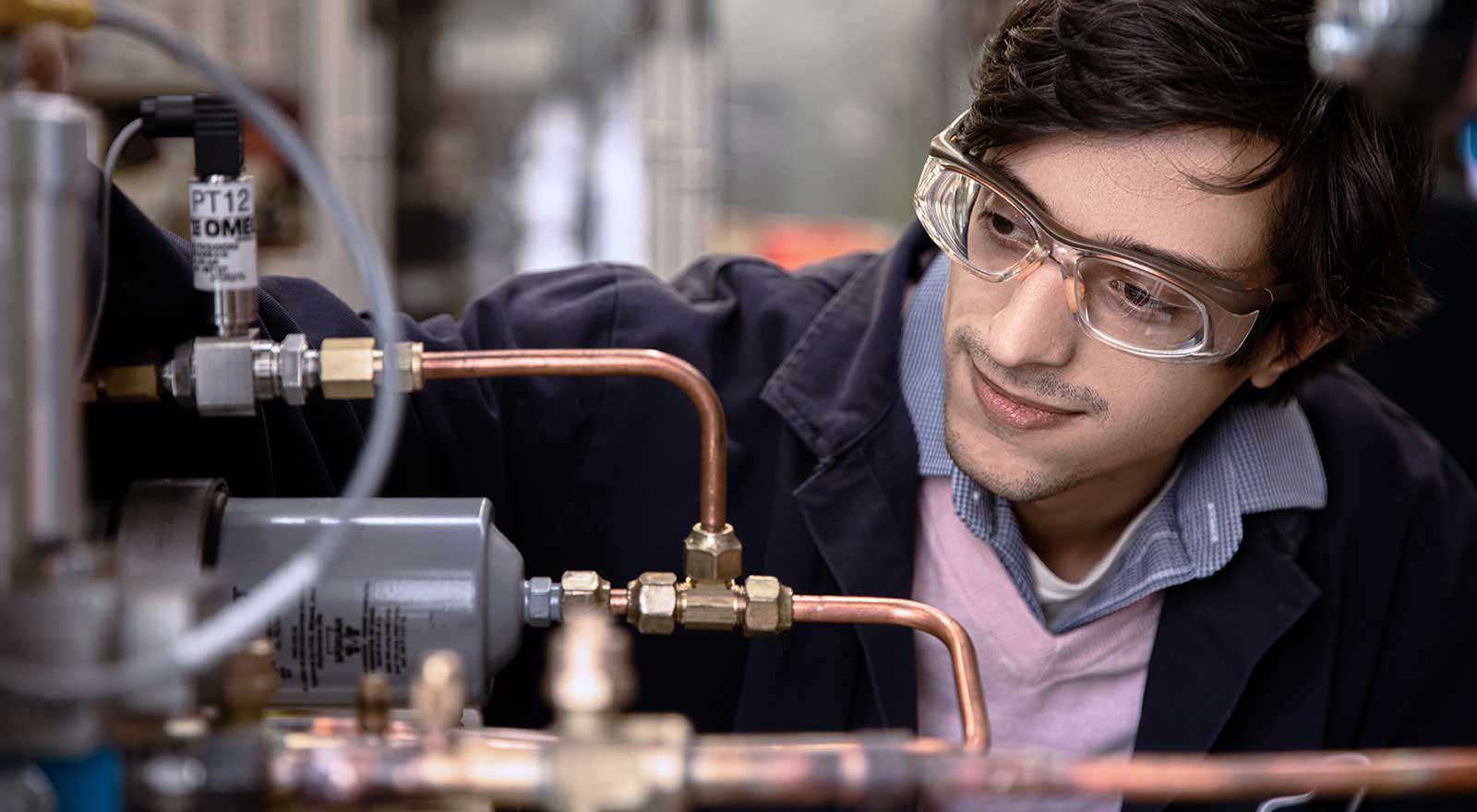 At Trane Technologies, our greatest assets are our people. That's why we're committed to doing the right thing — diversity, career growth, and opportunity for all.
At Trane Technologies, sustainability is the essential guiding principle for our business into the 21st century and beyond. Find out what that means to us, and our planet.