Executive Vice President and Chief Technology and Sustainability Officer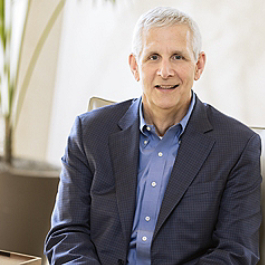 Paul Camuti is executive vice president and chief technology and sustainability officer of Trane Technologies. In this role, Paul oversees the company's strategy and innovation practices, enterprise sustainability and investment strategies, and networks of excellence in areas such as modeling and simulation and digital development.
Paul joined the company in 2011 and most recently served as senior vice president of innovation and chief technology officer. In this role, he led the enterprise strategy organization and oversaw the full spectrum of innovation, technology and growth initiatives within the company. Paul also led the company's enterprise focus on sustainability, advocacy for smarter energy usage, and partnership with industry experts, academia and NGOs.  
Prior to joining the company, Paul was founder and president of Smart Grid Applications for Siemens Energy, Inc. and CEO of Siemens Corporate Research, one of several Siemens Corporate Technology innovative research centers worldwide. He also held several leadership roles with Siemens Energy and Automation, where he founded the company's Industrial Software business, as well as work with Eaton Corporation and Westinghouse Electric.  
Paul serves on various boards and advisory councils, including the board of The Alliance to Save Energy and Charlotte's Science and Technology Center – Discovery Place, where he is vice-chair of the board of trustees. Paul is also a member of the NREL Energy System Integration Technical Review Panel and serves on the external advisory council for the P.C. Rossin College of Engineering and Applied Science at Lehigh University.
Paul holds a bachelor's degree in engineering from Lehigh in Bethlehem, Penn., and completed the Siemens Advanced Management Program at The Fuqua School of Business at Duke University in Durham, N.C.