November 11, 2020
Julian Carries it Forward: 'Military Deployment is a Crash Course in Leadership'
Trane Technologies honors veterans on November 11, 2020 and every day
Julian Vaiana is energy engineering program manager for Trane Technologies' Commercial HVAC business. He's also a veteran of the U.S. Air Force and currently a Major in the Air Force Reserves.
Julian was still in high school when he decided to follow in the footsteps of his father and older brother and join the Air Force. While earning his engineering degree at Syracuse University, he joined its Air Force Reserve Officer Training Corps (ROTC) program, taking military studies courses alongside his regular coursework and physical training.
Julian committed to serving four years of active duty as a commissioned officer after graduation, and earned an Air Force-sponsored scholarship that paid for the rest of his education. He officially joined the Air Force the day he graduated college. That might sound like a big commitment for a such young man. So, why did he do it?
"My father served in the Air Force during the Vietnam War, and my brother had a great experience in ROTC," Julian said. "I knew joining the Air Force would give me the chance to travel and get valuable experience.
"Plus, having the Air Force pay for my college tuition was a big deal. I entered college during the Great Recession, so having my tuition paid for and a guaranteed job after graduation felt awesome."
From Military Life to Civilian Life
Julian served his four years of active duty at Vandenberg Air Force Base in California, where he worked on energy-efficient building projects, and in Afghanistan, where he was deployed for five months in 2013. During his deployment he worked with local Afghan engineers and contractors to oversee base construction and maintenance.
"I was a First Lieutenant then, leading a civil engineer squadron responsible for all phases of construction and maintenance," Julian said. "I was basically doing the work of a construction project manager."
He liked his responsibilities in the Air Force, but Julian was interested in gaining more technical engineering experience. So he separated from the military after serving out his contract and landed a job in facilities energy analysis.
"After about a year of civilian life I realized I missed my service to country, which I didn't fully appreciate until after I'd left the Air Force," Julian said. "So I became a reservist."
Julian joins Trane
Not long after joining the Air Force Reserves, Julian joined Trane commercial sales office in Long Island City, New York, as construction project manager, getting his first experience in the HVAC industry. Within a year, he put his energy analysis experience to work as Intelligent Services account engineer, and finally energy engineering program manager, the role he holds today.
Julian says Trane Technologies and his managers have always been supportive of his service.
"It's been an awesome experience since my first day at Trane," he said. "Each manager has been supportive of my choice to be in the Air Force Reserves, and there's never been an issue when occasionally something comes up that may take me away from work for a bit."
Deployed again
Julian deployed as a reservist in June 2019 as the Officer In Charge (OIC) of a new construction project – rebuilding an Air Force base in Saudi Arabia in response to increasing tensions between the U.S. and Iran. He was in charge of every facet of construction, starting to get the new base operational within a month, in time for the first wave of troops to arrive.
"We worked 12-hour shifts around the clock without a day off for about a month," he said. "And the only food we ate for the first two months were MREs – meals ready to eat. The harsh environment and the nature of this work put all of my training to the test. The temperature rose to 130 degrees every day and the wind was constantly blowing, blasting our faces with sand. Balaclavas and goggles were necessities."
How did he get through it?
"The area had cell service, so that made it possible to stay in touch with family and friends," Julian said. "I never felt completely isolated, which helped me get through it with my sanity intact. It's tough to keep morale up when all there was to do is work; the gym hadn't been set up yet and there were no recreation activities available – nor time to do them."
When Julian returned home in early March, our company had become Trane Technologies, but he'd been in regular contact with his manager during deployment, so he wasn't surprised. He just carried what he learned from his recent deployment into his current role.
Carrying the learnings forward
"Being an officer in the military is interesting, because on Day 1 you're immediately put in charge of a team of people, and you already outrank the majority of the military," Julian said. "I've come to understand how you much you need to be able to learn from and rely on people with experience in order to make the right decisions.
"It is a crash course in leadership and what it takes to get the job done with a team. I like to carry forward that sense of humility. The ability to work as a team is crucial; at the end of the day, a leader's job is to make sure the team has what it needs to achieve its objective."
Trane Technologies honors veterans and their service on Veteran's Day, November, 11, 2020, in the U.S., and every day.  We hire veterans ; share this story with your friends, family and the veterans in your life.
"[Deploying as an officer] is a crash course in leadership and what it takes to get the job done with a team…At the end of the day, a leader's job is to make sure the team has what it needs to achieve its objective."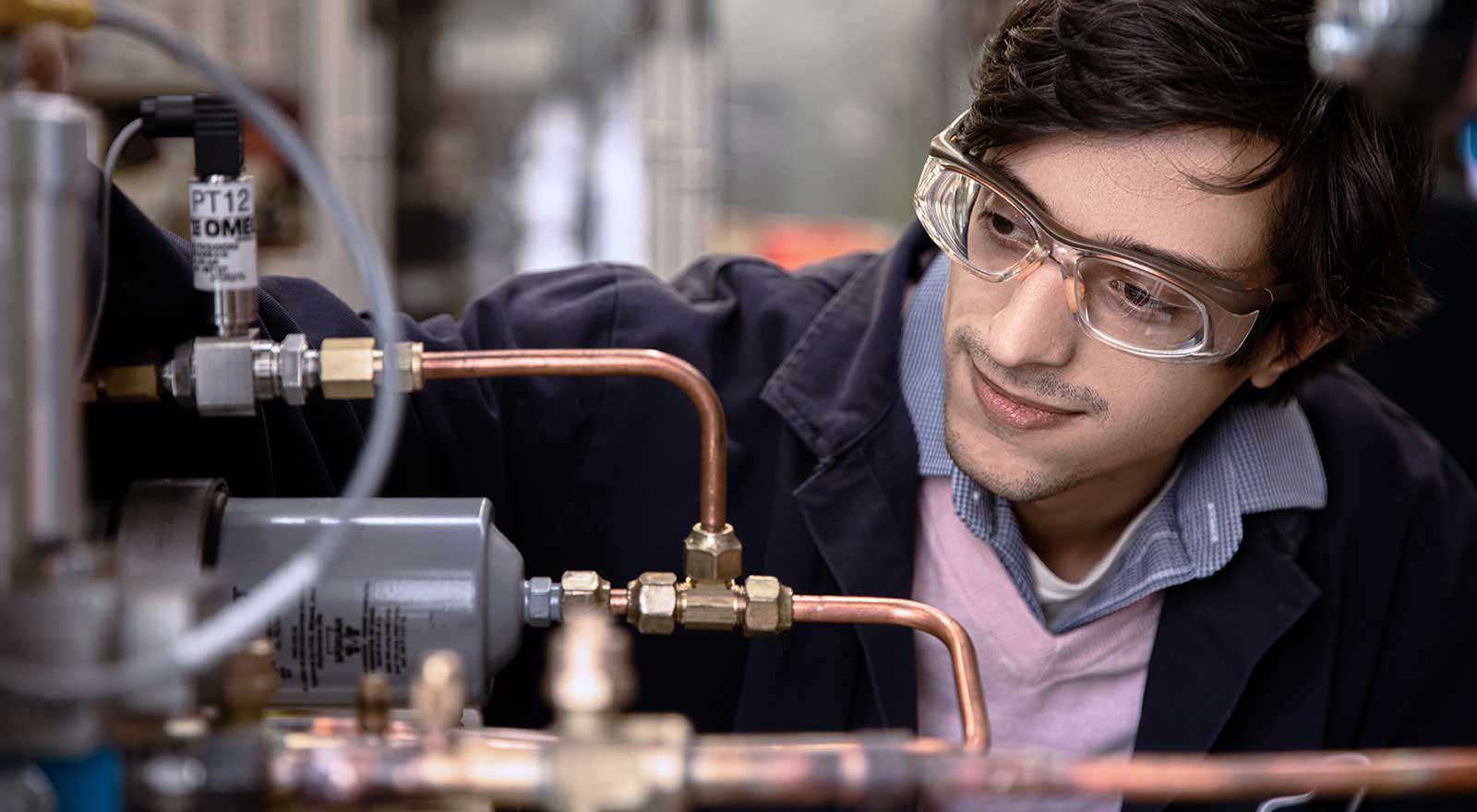 At Trane Technologies, our greatest assets are our people. That's why we're committed to doing the right thing — diversity, career growth, and opportunity for all.
At Trane Technologies, sustainability is the essential guiding principle for our business into the 21st century and beyond. Find out what that means to us, and our planet.