Socially Responsible Business Practices
Social sustainability is about education, opportunity, and health — creating new possibilities for employees, and a better world for our communities.
People
Our commitment to inclusiveness, diversity, and respect in all areas of our business leads to happier employees and customers, and more opportunities for all. Here are some highlights.
With an employee population the size of a large town, and spread around the world, we've created programs addressing race, gender, ethnicity, sexual orientation and more.
We adopted our Global Human Rights Policy in 2010, and today we make sure our employees, business partners, and suppliers adhere to it as well.
Our 96.1% key talent retention rate reflects our winning company culture and values our push for integrity, respect, teamwork, innovation and courage.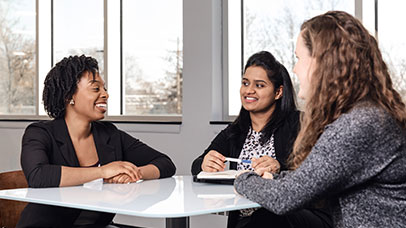 By appointing a director of diversity recruiting, we're showing our commitment to workforce diversity and fair compensation to our employees.
We invest in our people by offering a wide variety of training and personal development programs. In 2019, 97% of our salaried employees participated in a development conversation with their manager.

Our approach to creating and sustaining a safety-focused culture includes internal auditing procedures, employee ergonomics, and a behavior-based safety program.
Our pledge to increase supplier diversity is paying off, as we have seen our supplier diversity scores improve 18% and, in 2019, we purchased $532 million in goods and services from diverse-owned businesses in 2019.

Corporate Citizenship
Advancing mobility, shelter, nutrition — these are the foundational pillars of our work to establish healthy and happy communities.
Our focus is to advance STEM education to create career options for the next generation to thrive in the global workforce.
Our employees volunteered 51,453 hours toward providing housing and shelter.

We're making it easier and more affordable for food banks to safely recover, redirect, and distribute fresh food to those who need it most.
Embracing socially responsible business practices means we believe in putting more into society than we take out.
We make it our priority to build a winning work culture that is values-based, inclusive, and engages and develops people.
Two trophies in front of a bright red backdrop
Trane Technologies employee visiting the elderly in a hospital bed
We invest in the long-term well-being and development of our associates and communities.
Opportunity for All
How We'll Do It
Among many social sustainability initiatives, we'll achieve enhanced workforce diversity reflective of our communities, seek gender parity in leadership roles, and provide wellness offerings for our global employee population.
Our Progress
23.1%
of leadership positions were held by women in 2019
100%
of new suppliers are screened on human rights and labor practices
Maintenance worker fixing electronics